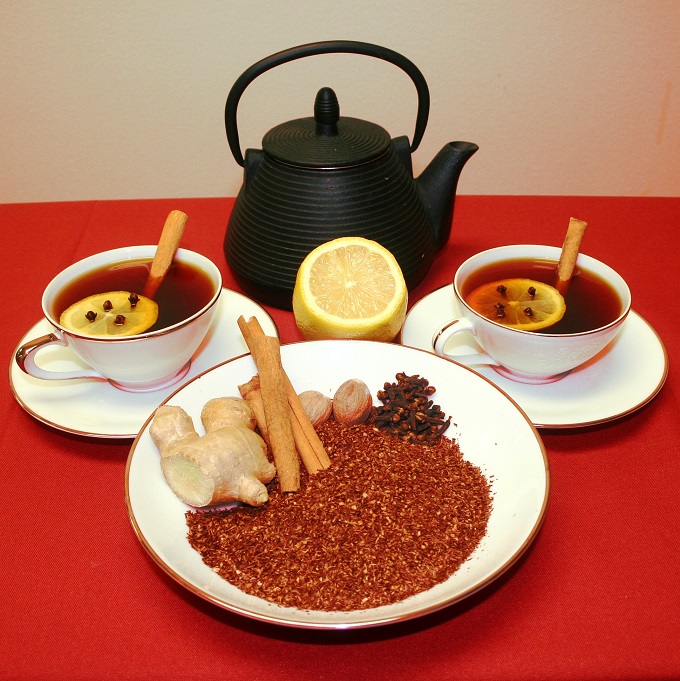 Rooibos, or "red bush," is native to the western coast of South Africa, and it has been harvested from the wild for millennia.  Only recently has it been cultivated, but with a high reputation as a cheap and delicious caffeine-free tea alternative, in less than 100 years its popularity has spread to every continent.
Rooibos is frequently used to substitute tea in herbal blends.  The tiny leaves have a malty sweetness reminiscent of black tea, but also a variety of their own unique accents, with strawberry, honey, and vanilla notes, as well as earthy and tobacco undertones.  This premium variety, organic from South Africa, has particularly strong vanilla notes and a surprising sweetness – it's really lovely!
Mild and forgiving, it is impossible to over-steep rooibos, and it lends itself well to flavored blends, providing a substantial yet relatively neutral body which is easy to build upon – it is excellent with sugar, honey, milk, nut milks, fruits, herbs and spices.  You will love rooibos especially if you enjoy experimenting with your own unique recipes, as it lends extra body and sweetness to any cup.  And you will love it on its own too – very smooth, mellow yet complex – add milk and sugar and that special vanilla-honey flavor profile might have you imagining that you are drinking a cake in a cup!
If you are looking for a caffeine-free hot beverage alternative, try this rich and vibrant red herbal infusion today.  For those who want to impress guests with unusual treats, versatile rooibos may be prepared as you would mulled cider, or used in novelty cocktails at your big holiday bash.  For those who like to keep it nice and simple, soothing rooibos is perfect for cozying up by the fire with the family, its mellow pleasant flavor well-received by all. 
We carry 7 scrumptious flavors: pure top-quality Organic Rooibos, as well as warm spicy Herbal Masala Chai, silky rich Herbal Chocolate Chai, and exciting NEW Rooibos Blood Orange Blend! We also have a line of Turmeric Blends that all include rooibos: from fortifying Turmeric Cider Spice, to sweet energetic Turmeric Peach Nectar and bright tangy Turmeric Zest.
Organic Rooibos, South Africa – This top-shelf variety is smooth, sweet, with ample vanilla flavor and rich honey and tobacco undertones.  This is our most versatile herbal infusion – you can steep any amount of leaves for any amount of time and it is always delicious, never bitter.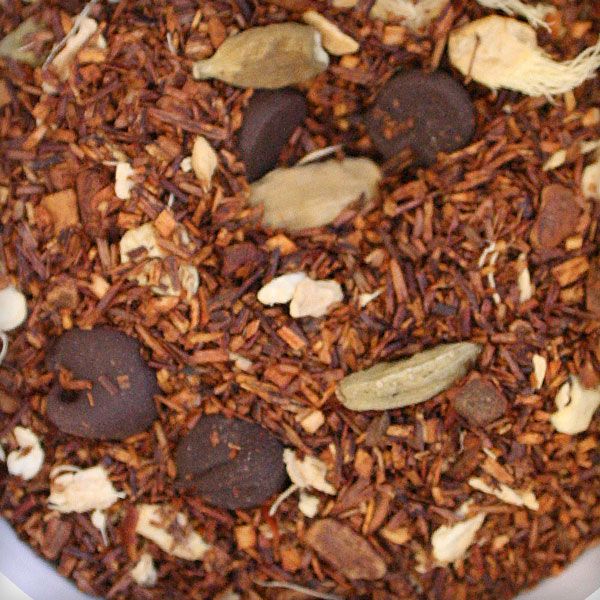 Herbal Masala Chai – Rooibos with ginger, cinnamon, cardamom, and vanilla flavors.  These spices will really warm you up.  Rooibos is ideal for this style of chai, with its rich vanilla flavors amplifying the sparkly spices.  Add a little milk and sugar and it might as well be dessert!  Makes a perfect caffeine-free Christmas morning cup.
Herbal Chocolate Chai – Rooibos with ginger, cardamom, and chocolate chips.  Another blend that will warm your hearts this holiday season.  Vanilla notes and rich red liquor are just begging for this delightful combo of ginger, cardamom, and chocolate. 
NEW! Roobios Blood Orange Blend – Rooibos with orange peel, hibiscus, apple, rosehips, rose petals, safflowers, lemon, orange and vanilla flavors. A masterfully designed herbal blend with a whole range of fantastic flavors, very versatile and great for iced tea too.
Turmeric Cider Spice Org Herbal Blend – Rooibos with honey bush, turmeric, cinnamon, peppercorn, ginger, lemon and vanilla flavors (all organic).  This blend makes a warming and fortifying tonic – turmeric is anti-inflammatory and immunity-boosting, excellent for cold wet winter days.  Not a lot of spices, this cup still maintains a mellow, subtle profile (though you can always add more if you like it spicy!).
Turmeric Peach Nectar Org Herbal Blend – Rooibos with peach, apple, rosehips, turmeric, chamomile, lemon myrtle, natural flavors (all organic). Sweet and sparkly with a unique combination of fruits and spices, this blend has an attractive golden color and powerful peach, candy-sweet, riding over the top of complex delicate herbs.
Turmeric Zest Org Herbal Blend – Rooibos with hibiscus, turmeric, orange peel, rosehips, cornflower, stevia leaf, natural flavors (all organic). Vibrant crimson velvety liquor is zippy and slightly spicy.  Hibiscus gives the cup an overall tart taste, amplified by orange peel and rosehips.  Rooibos rounds the edges with subtle vanilla and malty notes.  Great for iced drinks.
---
Try this delicious recipe for an extra-special rooibos-based winter warm-up: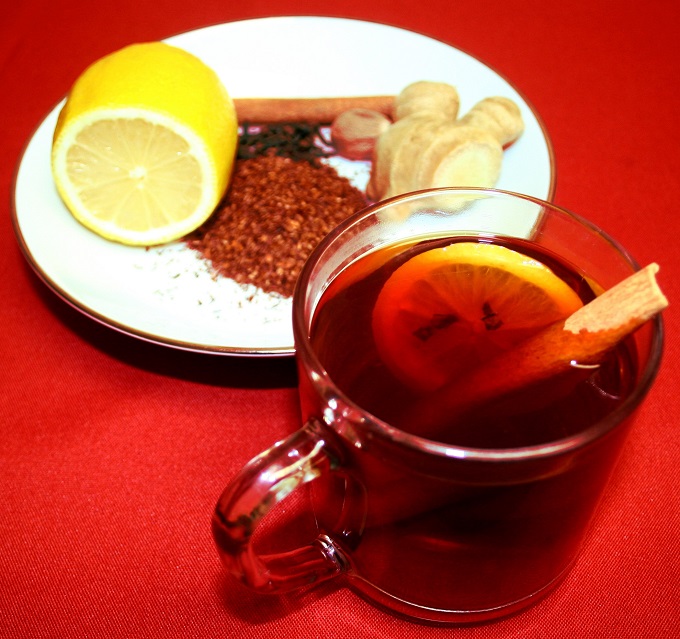 Serves: 1
Ingredients:
½ Cup prepared rooibos infusion (will require approx 1 tsp rooibos leaves, or more to taste)
½ Cup natural apple cider (any apple juice will do, preferably sugar-free)
½ inch piece of ginger, or more to taste
½ inch piece lemon peel
1 ounce Bourbon
1 ounce Cognac
½ ounce Benedictine
2 dashes Angostura bitters
1 lemon slice (round)
3 cloves, studded in lemon slice
1 cinnamon stick
1 whole nutmeg
½ Tablespoon honey, or more to taste
pinch of salt, to taste
Bring apple cider to a boil, steep ginger and lemon peel on medium heat for 5-15 minutes, then combine with rooibos infusion (also good steeped for 5-15 minutes, to taste).  Place lemon, cloves, and cinnamon in a mug and stir in rooibos, cider, and booze.  Grate a little nutmeg (be careful, its very powerful!), add honey and a few grains of salt to taste, and serve piping hot. 
The traditional hot toddy is simply whiskey, water, lemon and honey, and has been used by many to fight off cold and flu season.  This classic combo is delicious on its own, but our special holiday recipe also includes a well-rounded mix of liquors and spices that instill complex and memorable flavors and infuse even more warming powers than the old-fashioned version.    For hot toddies using Rooibos Masala Chai or Rooibos Chocolate Chai blends, omit the lemon, lemon peel, and apple cider (use 1 full cup of rooibos infusion instead).  For the kiddos, just omit the booze – it is still scrumptious!  Feel free to experiment with the spice mix – delightful additions include black pepper, cardamom, mace, peppermint or wintergreen, or a whole vanilla bean (you may prefer to omit lemon & lemon peel if adding vanilla).
---