Coffee flavor profiles vary so dramatically, that when searching for the perfect cup you never know where you may find it – understanding different Coffee Processing Methods is essential to understanding which beans are likely to carry your favorite types of flavors, as is basic knowledge of different Coffee Regions and different Strains or "Cultivars."
What do we mean by "Processing"?
Several different processes are used to prepare raw coffee cherries for transport, storage, and roasting. The process used on each lot has a significant impact on possible cup characteristics. Each particular variety and each unique growing season yield their own special beans, and the varied soils and climates of widespread coffee regions produce distinctive terroirs, just like fine wines. In addition to this basic palette of flavor profiles inherent in each raw coffee cherry, the most noticeable aspects in your cup will be determined by the coffee processing method, and skilled producers know which processing will best complement each lot and bring it to its highest quality.
High-quality coffee processing is meticulous and very labor-intensive, and is often one of the most influential factors on the higher prices of premium coffees. And in most cases, the processing method is the second most influential factor on final cup profile (your choice of roast level is number one), even more than region or cultivar. For new home coffee roasters, a basic understanding of the most common processing methods will make it easier to identify varieties that you may like, or in some cases dislike.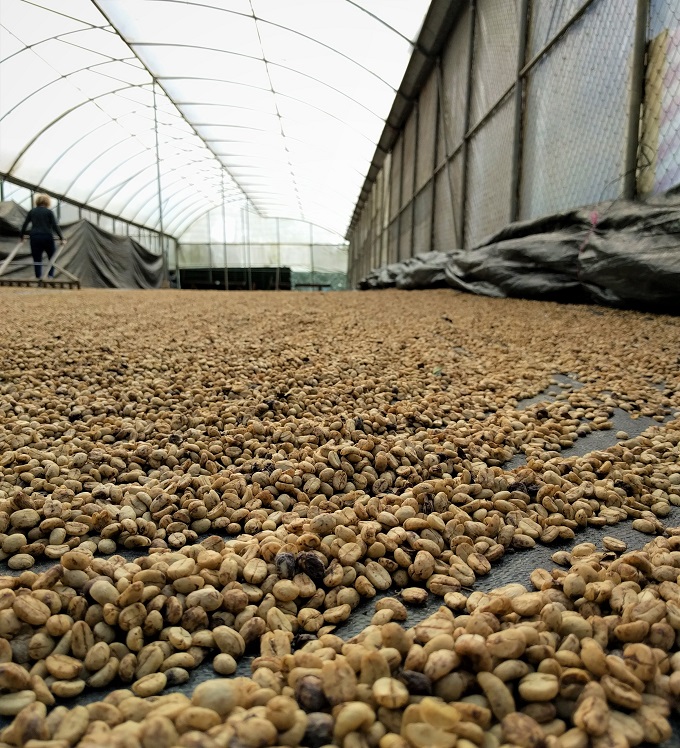 ---
Natural Processing (also known as Dry Processing)
Natural Coffee Processing is when coffee beans are dried within the coffee "cherry," a thin coating of tart red fruit. This method is most common in arid regions, because it requires much less water, but nowadays many farms all over the world prepare special lots of Natural beans for the premium market.
There are many variations on this method, leading to incredibly diverse cups. The basic approach is to harvest ripe coffee cherries, then spread them out on a concrete patio (though there are still plenty of farms that are so small and impoverished that they cannot afford the concrete and simply lay the coffee cherries on the ground). They let them dry slowly, covering with tarps to block the sun and delay drying if necessary, for 2-3 weeks or more. When the fermenting fruit has imparted just the right amount of bright citrus and berry notes, then farmers use machines called "pulpers" or "hullers" to mechanically remove all fruit (or they may pound and winnow the beans the old-fashioned way). Then they get graded and bagged for shipping.
Many people seek out Natural coffees not only because it is a fun flavor adventure to discover so many bright and exciting tones, but also because they use less local resources, making them more environmentally-friendly and sustainable.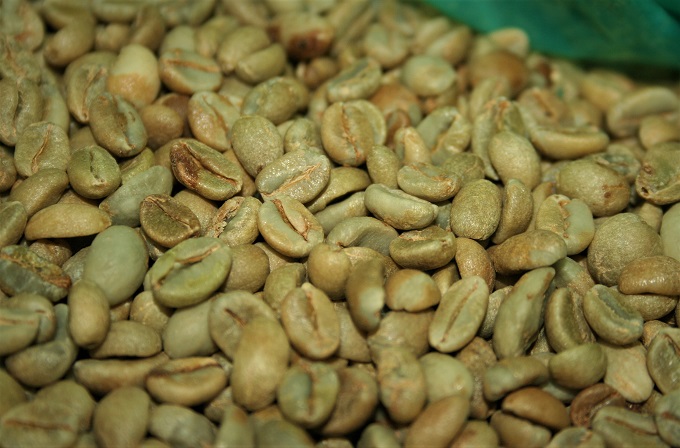 Flavor profiles vary widely among Naturals, but the most important distinction is between two main categories – "fruity" vs "not fruity" (that's not technical language! just the best way that we have found to explain clearly), also referred to as "ferment" vs "non-ferment" (but that can be confusing because "ferment" is also sometimes used to describe unpalatable flavors caused by processing defects).
Roasting Naturals can be a little more challenging because variations between individual beans are increased when dried in the cherries – each one ends up with slightly different moisture content and appearance. As a result, beans may roast unevenly and there will be more chaff. Historically considered an inferior process, over the last few decades more precise Natural Coffee Processing techniques have been dialed in to create unique products that often demand a premium over Washed coffees. Still, they can be a little unpredictable – adding that much more fun to your flavor adventure!
"Fruity" (or Ferment) Natural:
Farmers pick ripe cherries and arrange them in a single layer to air-dry – not too fast, as they need time for the fruit to ferment and add sweet/sour/spicy layers to the beans – and then use a mechanical huller to remove the fruits when the beans are down to about 12% moisture content.
This process is very sensitive. The desired flavor profile usually contains a strong blueberry note, but actually achieving that is really quite rare. The darker fruit notes come from just a hint of fermentation – if coffee cherries are not fermented enough, flavor profiles tend to resemble the more traditional Brazil processing, or if fermented too much, undesirable tones resembling rotten fruit, almost boozy, will tend to develop. Over time, fermentation will begin by adding darker fruit tones and then as it progresses more cherry notes and then an almost strawberry aspect, and further from there to the boozy, over-fermented flavors. Although new technology allows much better control of Natural Processing and delivers more reliable products, this is the original way that coffee was produced and it still gives an artisanal cup with an old world style.
"Conventional" (or Non-Ferment) Natural:
Brazil has made this process famous, and their weather has made it mandatory – most years the harvest season is extremely dry. So this process is similar to the above but the drying time passes very quickly. In some climates, this can even happen on its own – "Raisin Natural" coffees are left on the trees to dry. These varieties tend to come only from regions with dry climates and typically produce more traditional flavor profiles.
Combo of tones:
In practice, most naturals have a mix of fruity and conventional flavors. Some offerings will be powerfully fruity (Natural Ethiopias, Natural Panamas, or Bali Kintamani for example), some mildly fruity only detectable at lighter roasts, and some will have no detectable ferment (standard Brazil coffees). Remember to read the tasting notes to see what aspects of Natural Processing are detectable in each unique lot.