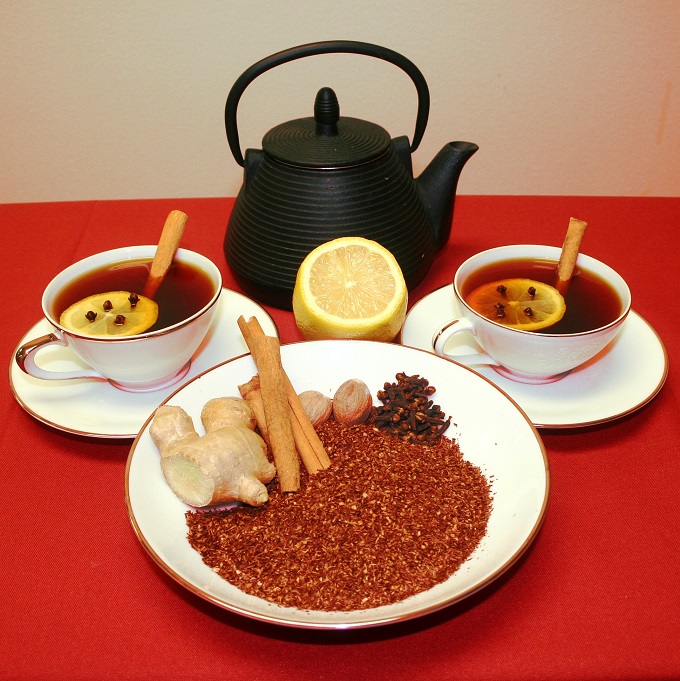 Try this delicious recipe for an extra-special rooibos-based winter warm-up:
ROOIBOS-CIDER HOT TODDY
Serves: 1
Ingredients:
½ Cup prepared rooibos infusion (will require approx 1 tsp rooibos leaves, or more to taste)
½ Cup natural apple cider (any apple juice will do, preferably sugar-free)
½ inch piece of ginger, or more to taste
½ inch piece lemon peel
1 ounce Bourbon
1 ounce Cognac
½ ounce Benedictine
2 dashes Angostura bitters
1 lemon slice (round)
3 cloves, studded in lemon slice
1 cinnamon stick
1 whole nutmeg
½ Tablespoon honey, or more to taste
pinch of salt, to taste
Bring apple cider to a boil, steep ginger and lemon peel on medium heat for 5-15 minutes, then combine with rooibos infusion (also good steeped for 5-15 minutes, to taste). Place lemon, cloves, and cinnamon in a mug and stir in rooibos, cider, and booze. Grate a little nutmeg (be careful, its very powerful!), add honey and a few grains of salt to taste, and serve piping hot.
The traditional hot toddy cider is simply whiskey, water, lemon and honey, and has been used by many to fight off cold and flu season.  This classic combo is delicious on its own, but our special holiday recipe also includes a well-rounded mix of liquors and spices that instill complex and memorable flavors and infuse even more warming powers than the old-fashioned version.    For hot toddies using Rooibos Masala Chai or Rooibos Chocolate Chai blends, omit the lemon, lemon peel, and apple cider (use 1 full cup of rooibos infusion instead).  For the kiddos, just omit the booze – it is still scrumptious!  Feel free to experiment with the spice mix – delightful additions include black pepper, cardamom, mace, peppermint or wintergreen, or a whole vanilla bean (you may prefer to omit lemon & lemon peel if adding vanilla).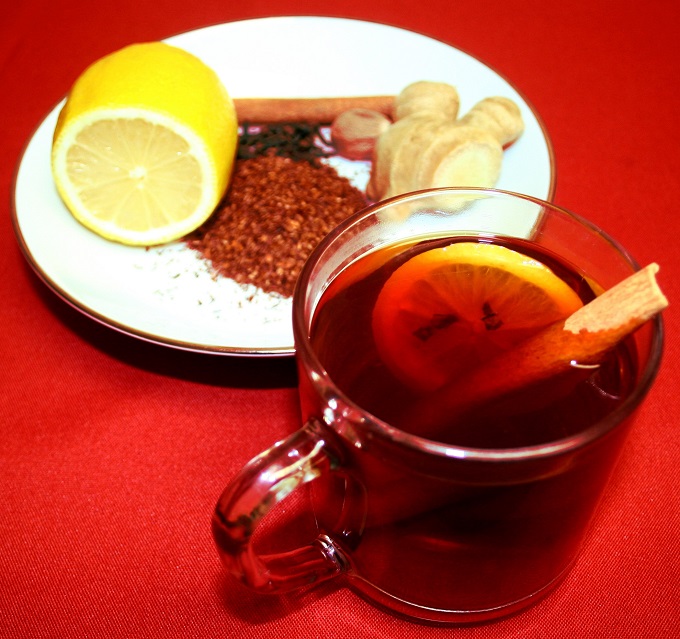 ---