Description
In Stock
Check out the new SR 540 Extension Tube – a great new accessory to move the coffee a little better and increase the batch size.
The New Control Panel: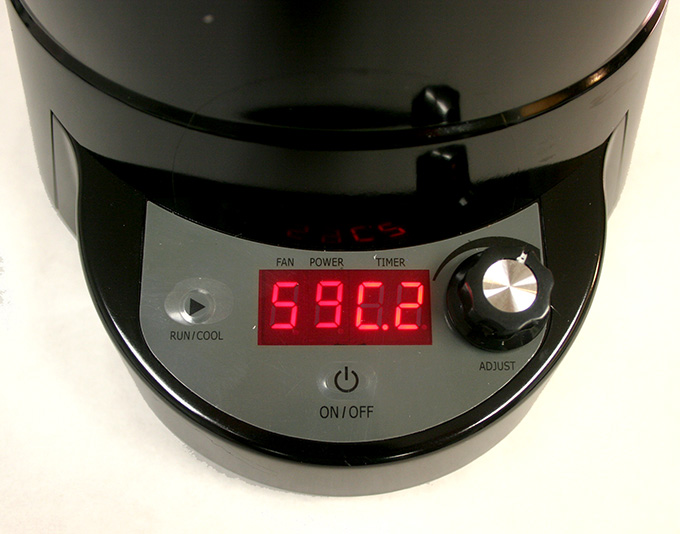 First slot on LCD:  Fan Speed – settable from 1-9.    1=low 9=high.
Second slot on LCD:  Heat/Power – settable from 1-9.    1=low 9=high.
Third and fourth slots on LCD:  Time – settable from 0.1 – 20 minutes.  During cool mode it will display C.3, C.2, or C.1 as it moves through the cooling process.
The control panel has been significantly simplified. To change a field on the LCD display:  PRESS the turn knob, display will then flash the setting you have selected.  PRESS again to select the next setting.  TURN the knob to adjust the setting.  All in real time.  Beyond that, you have just two buttons – On/Off and Run/Cool.
Key Features
Easy and fun; glass chamber ensures that coffee beans are highly visible throughout the roast
Quickest of all home coffee roasters
Simple design, yet highly adjustable – great for both newbies and master roasters
New improved control panel – more customizable settings
All settings adjustable during roast
Roasts about a quarter pound of raw coffee beans
Convenient chaff collector is very easy to clean
One year warranty; manufacturer is very helpful
Basic Use Instructions:
Weigh out 4.25 ounces of green coffee beans, or 4 scoops. With this machine, results are fairly sensitive to batch size, so dependent on voltage, ambient temperature, coffee type, and your roast preferences, you may want to decrease or increase by up to 1 ounce in either direction. However, for most users 4.25 ounces usually works well; it is the best place to start.
Plug the machine into a standard polarized 120-volt outlet. Be sure that no other appliances are drawing from the same circuit – this will decrease the power available to your roaster.
Pour beans into the roast chamber, then set the roast chamber into the machine, then set the chaff collector on top of the roast chamber. Use care to ensure that pieces are fitting together properly. This machine is top-heavy and users sometimes drop and break roast chambers and chaff collectors (if you do, don't worry – we have replacement parts!).
Set Fan speed to "9" and Power to "5". Set timer for 15 minutes. Total roast time is generally between 6 and 15 minutes depending on settings.
Hit the Run button. Coffee beans will gradually begin to move more and more as they lose moisture and weight.
As soon as you start seeing good movement (usually 1-3 minutes), increase Power to "9".
You should now be on "Fan:9 / Power:9". This setting will get you close to 1st crack, but too much movement prevents adequate heat build-up, so it is necessary to gradually reduce fan speed to push the roast up through 1st then 2nd crack. It is important to keep some movement; try turning Fan speed down 1 notch, and if beans are still quickly flying around, turn it down 1 more. If beans stop moving, turn it back up and wait approximately 1 minute before turning it down again.
Typically, the roast will progress like this: At Fan "8" beans should start 1st crack (depending on variables such as ambient temperature, voltage, etc), and as you gradually decrease speed after each minute (approx), at Fan "6" you will be approaching a medium roast, and at Fan "5" you will hear 2nd crack and begin moving into dark roast.
Hit Cool button when you reach your desired roast, and turn Fan back to "9" – remember to turn the fan speed back up to maximum to ensure that beans cool quickly and do not continue roasting!
Warranty:
1 year warranty on the base, 6 months on the roast chamber and chaff collector, directly from FreshRoast.  After 30 days from purchase customers are responsible for shipping the roaster into their repair center. They will fix and return it.  Out of warranty repairs are similar but do have a cost.  FreshRoast is more than fair for any in or out of warranty items.  And also let us know if you are having any issues – we are happy to help!
Please visit the Home Roasting Supplies website for more warranty information: https://homeroastingsupplies.com/warranty
Support Email: [email protected]
GUIDES TO USING THE FRESHROAST SR540 HOME COFFEE ROASTER:
Check out our home roasting resources for more tips and tricks!