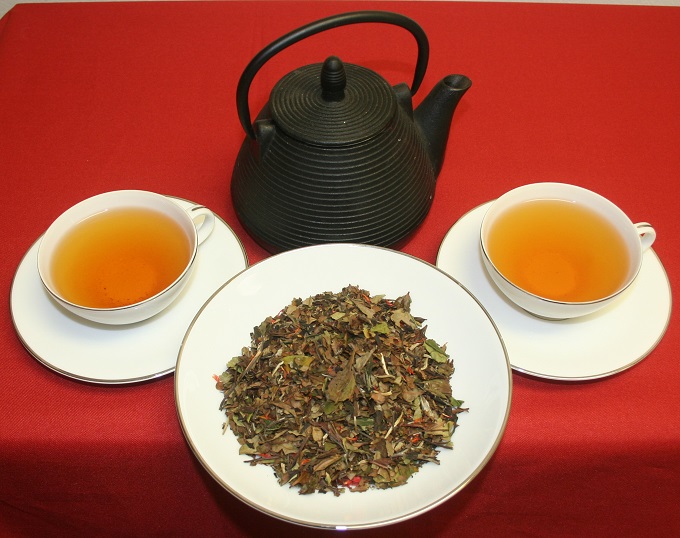 ---
Almost all white teas come from famous Fujian province, which claims to be the first producer of white, black, and oolong teas. Like green teas, receiving heat treatment to stop the oxidation process, white teas capture the delicate aromas of spring and dance many subtle flavors across the palate. Most Americans have never heard of white teas, because just a tiny fraction of each year's harvest is permitted this special designation. Only the very earliest and freshest growths, young buds picked when they are still tightly enclosed in new, pale, silky leaves, qualify for the title of "white" tea.
Our Pai Mu Tan teas are some of the finest produced in Fujian. Large, fleshy buds plus only the next two leaves are classified as Pai Mu Tan or "White Peony," and are very rare in the West. These teas are prized for abundant antioxidants and minerals in a delicate and often surprisingly sweet liquor, making a light, mild-tasting yet powerful daily health tonic.
Our top-shelf Pai Mu Tans have been enhanced with fruit and flowers, making them ideal for those who generally do not care for tea but desire its many health benefits. They are also excellent for iced teas, cocktails, or as a base for your own signature blend. Black tea fans should note that white teas are typically steeped in 160-170℉ water for 2-3 minutes (less is more with Pai Mu Tan!).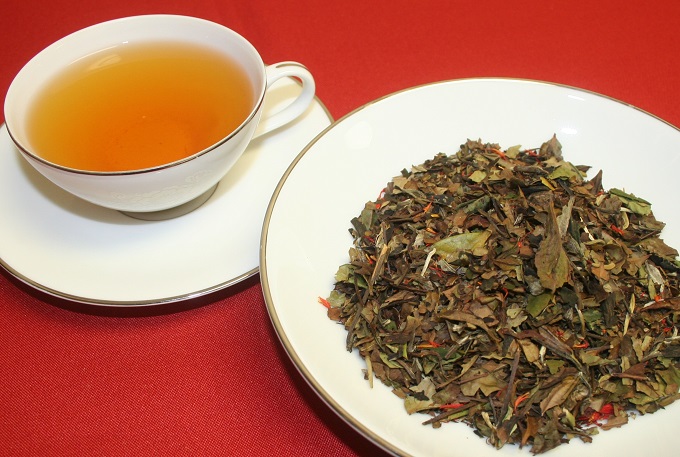 Champagne Raspberry Pai Mu Tan – A sparkling aromatic bouquet of jasmine, chrysanthemum, and raspberry. The fruit notes sit front and center, but the complex floral notes of the white tea fill the mouth and clear the head, so the hint of champagne makes it seem almost effervescent.
Lemon Ginger Pai Mu Tan – Lemongrass shines through this tea, giving it stimulating vapors and a zippy mouthfeel, and boosting natural floral notes of the tea. Subtle ginger slowly builds a lingering warmth in the mouth, throat, and stomach; makes a great digestive.
Pomegranate Pai Mu Tan – With light yet lively flavors, pomegranate is an excellent fruit to pair with a white tea, adding subtle layers to its astringency and complicating it with a little sour and sweet. No overpowering added flavors here, you can really appreciate the exceptional Pai Mu Tan.
Plum Pai Mu Tan – Our new favorite flavored tea! Sweet tangy plum and rich figs fill out a velvety rose petal accent that enlivens the subtle pinewood and grapefruit notes of the tea.
---
Don't like added flavors? All of the Pai Mu Tans that we currently carry are flavored – white teas have subdued profiles that make them easy to enhance with fruit or flowers – but if you would like to try a pure and perfect white tea, we got you covered there too. In fact, we have something very special for you! "White Exquisite Soft Pearls" are attractive green/silver spheres hand-rolled from only the most perfect new buds – they make a stellar cup that is unlike anything else we carry (and is difficult to find anywhere in the USA). Those just beginning their tea exploration adventures should check out this rare artisanal variety, it's a real level-up!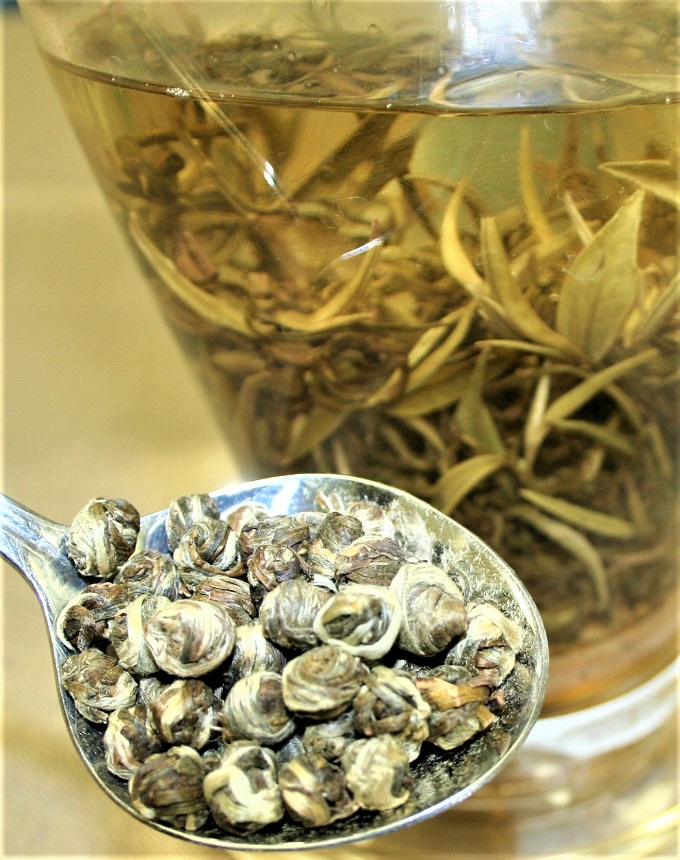 ---