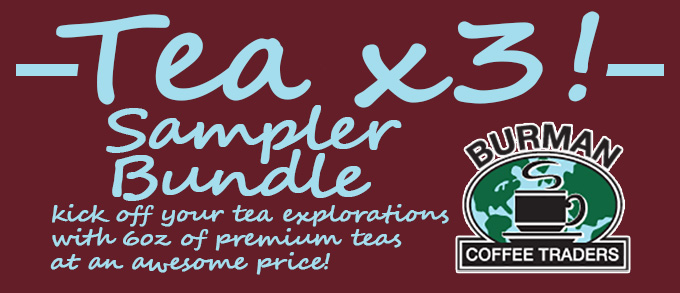 Calling all flavor explorers! We are very excited to offer a new line of Tea Sampler Bundles – a great place to start for those who are just beginning their tea tasting adventure.
Each of these sampler bundles have 2oz each of 3 different teas and/or herbal infusions.
We start with the basics – our first line of Tea x3 Sampler Bundles include some of our most popular offerings, a wide variety of classic tastes. Some may be familiar to you, some may seem exotic – all are fantastic in their own unique ways. We are certain that you will love these teas and herbal infusions.
We will release many new sampler bundles in Oct-Nov 2020, so check back often!
---
Explore Teas Around the World:
Explore Regional Teas:
Explore Herbal Infusions:
Explore Teas & Herbs for Health:
Turmeric Blends Sampler Bundle
---
Is this your first step on an epic tea adventure? You may want to read more about Types of Teas and How to Steep the Perfect Cup of Tea. Be sure to get some Tea Making Tools as well!
---
Coming Soon!
Iced Tea Sampler Bundle
and more…