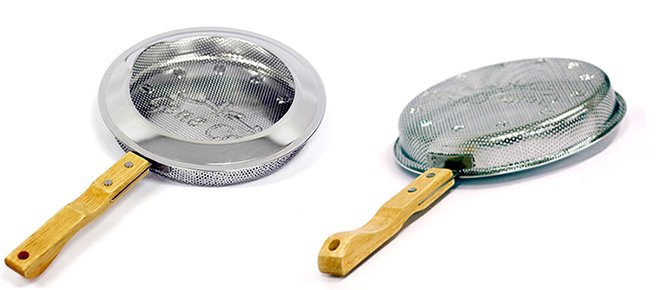 A new option for Home Coffee Roasting
We are really excited to now be carrying the Gene Home Coffee Roasting Pan. We've been experimenting with it and have really liked the results. Hopefully we'll get some of our own pics and videos up. For now, here's some quick stats and info about the roasting pan.
Specifications
1. Pan Size : 8.8inch(22.5cm)
2. Length : 15.8inch(40cm)
3. Weight : 286g(0.63lb)
4. Roast Capacity : 150 ~ 200g (0.33 ~ 0.44lb)
Let's learn Pan Roasting
Dry Beans – Dry water off the Coffee Beans, keeping Pan Roaster distance from the burner.
Shake the Pan Roaster for even roast :
– Turn it to the left and right.
– Shake it forward and backward.
Here is a short video from Gene Cafe on using the Roasting Pan.
Click to order or learn more about the Gene Cafe Roasting Pan
If you're looking for a more high-tech experience, learn more about the Gene Cafe Home Coffe Roaster.