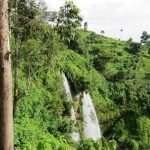 Coming from family owned farms located in the Bugisu region on the slopes of Mount Elgon in the Kapchorwa district, Uganda. The Bugisu region is named after the Bugisu people who are indigenous to this area. The Sipi Falls coffee project, named after a trio of majestic waterfalls, was established in 1999 to strengthen quality coffee production in the region and create a sustainable income for farmers.
Tasting Notes:
A nice clean and balanced cup, medium bodied and lower acidity for an African. Lighter roasts will still be a little citric and floral balanced with a semi-sweet chocolaty undertone with very little of that traditional African spice note. Medium roasts mute up the acidity and leave a little hint of a floral and developing a little soft fruit tone mixing with a smoother chocolate tone. Darker roasts pick up some nice complimentary roasty tones mixing with more of a bakers chocolate semi-sweet note.


Roasting Notes:
Medium to dark roasts were the way to go, clean and smooth, very drinkable with a sweeter edge to it. Lighter roasts added a little bit of floral but reduces the chocolaty edge to just a hint. Dark roasts were very nice as well, smoky and chocolaty, a bit more potent of a cup.