Description
Comes with 1 pound of Free Colombian Coffee!
Looking for an affordable entry level coffee roaster? This was designed for stovetop popcorn popping, but also works great for roasting coffee. Simply put on the stove, turn the crank and start roasting away.
We tested out an 8 ounce batch size and got a nice even roast in about 10 minutes.
All in all, we think it's a great starter roaster at an excellent price point – a perfect gift for the coffee lover on your list!
Key Features
Hand crank mixing
4-8 ounce batch size
Excellent value for those new to Home Coffee Roasting
Basic Use Instructions:
Materials needed:
4-8 ounces of unroasted coffee.
Whirly Pop.
A Colander.
A heat source: stove, camping grill, side burner to grill etc…
Step 1.
Get 8 ounces of your choice of coffee and place it into Whirly Pop.
Step 2.
On a gas/electric stove, start with medium heat and begin to turn slowly. Set the timer for around 10 minutes. After a few minutes you will notice a hazy smell and slight change of color with coffee beans. Make sure to keep turning the Whirly Pop. Adjust heat as necessary if there is no change in color (increase heat) or too rapid color change or much darker burning edges (decrease heat).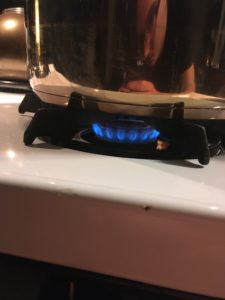 .
Step 3
After around 5 minutes you should hear the first pop. Notice the coffee beans turn a yellowish color. You should notice steam escaping from vents on top of whirly pop. Lower heat if you smell the coffee is burning.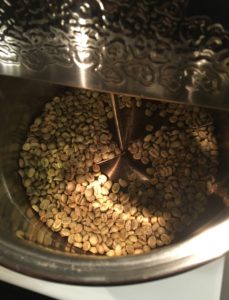 Step 4.
At around 7 to 8 minutes the coffee beans should be at a light roast level. If you wish to continue roasting, continue turning the whirly pop on low heat. Stop when the desired roast level is reached.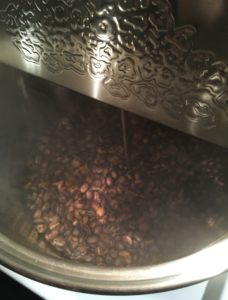 Step 5.
Pour roasted coffee in a colander. Let it cool and enjoy!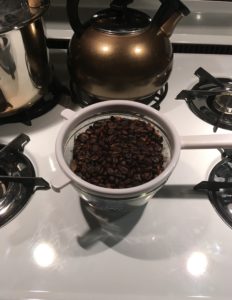 Check out our home roasting resources for more tips and tricks!
No Warranty If Used For Coffee but holds up well.