As the holiday season approaches, it's likely your to-do list is already quite long. Shopping for gifts is only one of the many things you need to get done. With 40% of the U.S. population drinking coffee on a daily basis, it's quite possible you have a devoted coffee drinker on your list. Consider gifting a coffee-related item that won't get banished to the top shelf of a closet collecting dust. To help simplify your gift-buying process, here are our suggested gifts for coffee lovers on your list.

You may have coffee aficionados in your life who are either seasoned home roasters or have only expressed an interest in home roasting. Either way, the Fresh Roast SR 540 Coffee Roaster offers just the right features at an affordable price. The manufacturers of Fresh Roast Coffee Roasters have improved upon the well-loved SR 500 model. Experienced home coffee roasters will welcome the nine heat levels (increased from three), while beginners will appreciate the simplified control panel. Through the use of convection, fluid bed roasters roast coffee beans more evenly. They also roast in about half the time when compared to their drum roaster counterparts. In addition, the real-time temperature readout feature on the SR 540 takes the guesswork out of the roasting process. Overall, the Fresh Roast SR 540 gives users a perfect level of control making it an excellent gift for any coffee lover. $189 w/ Free Shipping (contiguous US only), Free Coffee & a Free Gift.

The most discerning coffee brewers know that conical burr coffee grinders produce the most consistent grinds for a variety of coffees. The Baratza Encore Coffee Grinder is an economical choice for high-quality grinding of roasted coffee beans. Coffee industry experts have tested and found this coffee grinder to produce superior coffee relative to comparable ones on the market. With 40 steps of adjustment, the Baratza Encore Coffee Grinder is the ideal gift for coffee lovers. It is particularly ideal for those who enjoy experimenting with different coffee brewing methods that require different grind sizes.
When gifting this grinder, you can be sure the recipient will be enjoying a high-quality device with a powerful but quiet motor and a well-constructed gearbox. $139 w/ Free Shipping (contiguous US) and a free pound of un-roasted coffee!

Home Coffee Roasting by Kenneth Davids
Most coffee drinkers continue to brew their daily dose of caffeine at home according to the National Coffee Association's (NCA) most recent National Coffee Data Trends (NCDT) report. Many of these homebrewers have expanded their coffee routine beyond fancy grinders and coffee makers to home coffee bean roasting. Coffee drinkers who are interested in roasting beans at home, but are intimidated by the thought of it, will find Kenneth Davids's book, Home Coffee Roasting to be a valuable resource. The book presents information about home coffee bean roasting in an undaunting way. It is the ideal gift for coffee lovers who have an interest in taking control of the taste and freshness of their home-brewed coffee.

Stainless Steel Coffee Growler
Sometimes a travel mug's worth of coffee is just not enough to sustain a person for the entire day. Whether they prefer theirs hot or cold, a Stainless Steel Coffee Growler is the quintessential gift for coffee lovers on your shopping list. The double-walled stainless steel container will keep their coffee hot for up to 12 hours or cold for 24 hours. Because it's built to be durable and rugged, it is safe to take along on hikes and traveling adventures. In addition, the lifetime warranty makes it well worth the investment for that special coffee drinker in your life. This growler is also available in the following colors: Fern, Slate, and Copper. To thank you, maybe the recipient will be inclined to share a cup of freshly brewed coffee with you.

Chemex Coffee Maker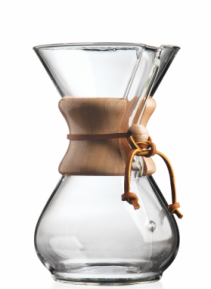 There is something about brewing your coffee in an elegantly designed coffee maker. If you are looking for gifts for coffee lovers who have graceful style, the Chemex 10 Cup Coffee Maker may be a fitting option. It was selected by the Illinois Institute of Technology as one of the 100 best-designed products of modern times. This well-designed Chemex Coffee Maker can create the perfect cup of coffee when used with Chemex-Bonded Coffee Filters. The high-quality non-porous glass used in this simple but elegantly designed coffee maker does not retain odors or chemical residues. As a result, Chemex Coffee Makers produce a clean flavorful taste that isn't tainted from previous batches of coffee brewed with different coffee grinds. The size of the Chemex 10 Cup Coffee Maker is the perfect gift for the elegant coffee lover who enjoys sharing a cup of coffee with friends.

This video walks you through the process of brewing coffee with a Chemex Coffee Maker.

Nesco Electric Water Kettles
A Nesco Electric Water Kettle is the ultimate gift for coffee lovers who enjoy the pour-over method of brewing coffee. Because it boils water faster than a microwave, it saves coffee drinkers precious time in their usually hectic mornings. As an added bonus, these water kettles use half the energy of stovetops. The basic Nesco Electric Water Kettle comes with a removable and easy to clean water filter and built-in cord storage in the base. Nesco's Variable Temperature Electric Water Kettle has all the features of the basic model, but with the added feature of variable temperatures settings – Boil, 200°, 190°, and 175°.

Green Coffee Beans
Green coffee beans are an exceptional gift idea alone or as a complement to other coffee-related items. The 3-lb Popular and Special Bundles offer a variety of tastes to the coffee drinkers on your list who enjoy home roasting. The Popular Bundle currently includes coffee beans harvested in Colombia, Guatemala, and Mexico. The Guatemalan beans in this bundle are easy to roast, making them an excellent choice for less experienced home roasters. The Colombian and Mexican coffee beans produce a fuller-bodied coffee.

The Special Bundle currently includes green coffee beans from Ethiopia, Nicaragua, and Costa Rica. All three of these varieties offer some degree of sweetness and fruitiness. This Bundle is a great option for those coffee drinkers/roasters who enjoy the taste of medium roast blends.

Either Bundle will be a well-appreciated gift for coffee lovers. While you are at it, order a bundle or two for yourself. You can compare notes on taste and roast levels with the coffee fans in your life.

Handmade Gifts Made with Burlap Coffee Bags
Are you looking to add a personal touch to gifts for the coffee lovers in your life? If so, a burlap coffee bag creation may be the answer. Recipients will be touched by a handmade gift you spent time to create. An item created from a burlap coffee bag can be an affordable gift they will treasure. Whether it's an apron, a pillow, or some wall art, your handmade gift for the coffee lover on your list will be much appreciated. It will allow them to express their affinity for their favorite brewed drink. Remember, the burlap coffee bags available for purchase will undoubtedly have imperfections. However, they will add to the charm and authenticity of your handmade creations.
All these gifts for coffee lovers can be found at Burman Coffee Traders. Please visit our site to find additional home coffee roasters, accessories, and green coffee bean options. Not to mention, we offer free shipping and green coffee beans with the purchase of our coffee grinders and home coffee roasters. In addition, our Chemex coffee makers include 100 Chemex square coffee filters.

If you are looking for additional help with selecting a gift for a coffee lover, please contact us. We would be happy to help.